Welcome to the final #LunchNLearn for 2020 and I hope you've all had a restful few days over the Christmas period.
How did you get on with last week's emoji fun?
Here are the much-awaited answers. Give yourself a loud "woop woop" if you got them all right!
1. ????⚡???????? = Harry Potter and the Goblet of Fire
2. ❄????????????⬇ = Titanic or Watership Down
3. ????????‍♀️???? = The Lion, the Witch and the Wardrobe
4. ???????? = The Grapes of Wrath
5. ???????????????????????? = The Secret Garden
6. ????????➕✌???? = War and Peace
7. ????????????????‍????????????‍♀️???? = The Handmaid's Tale
8. ????????‍???????? = Girl on a Train
9. ????????????????????????????????????????⛳????⚽ = The Hunger Games
10. ????????????‍♀️???? = Memoirs of a Geisha
I've been looking over all the fantastic learning I've shared with you since our first issue back in May.
We've covered so much – from identifying Mood Food that will boost your energy, motivation and positivity to keeping a valuable CPD log, from ensuring you use feedback as a development tool to being READY for the #wfh challenges.
One thing's for sure – it's been The Strangest Year for everyone (so strange, it warrants capital letters!).
But we've moved through the rooms of the Change House and built our resilience and acceptance of a situation that none of us could have predicted. I'm sure, like me, you're ready to welcome 2021 and the promise of better times.
I want to take this opportunity to thank you so much for your support of Your Excellency this year.
Thank you for celebratating the launch of my "EA/PA Chataway with Lindsay" podcast with me. We're nearing 300 downloads since launch – which is just fantastic!
Thank you for joining us in our Virtual Academy, for putting your newfound learning into practice and contributing to raising the profile of this profession. Please check out our upcoming training dates below.
Thank you for completing our Autumn survey. The information you provided has been invaluable in helping us ensure our learning and development offerings meet your needs and wants. We've used your inputs to pull together a new Prospectus which you can download here.
Thank you for emaiing me to let me know that you're enjoying the content I share with you. It's great to get your feedback.
Enjoy the last few days of 2020. Happy New Year and I look forward to sharing more valuable content with you in 2021!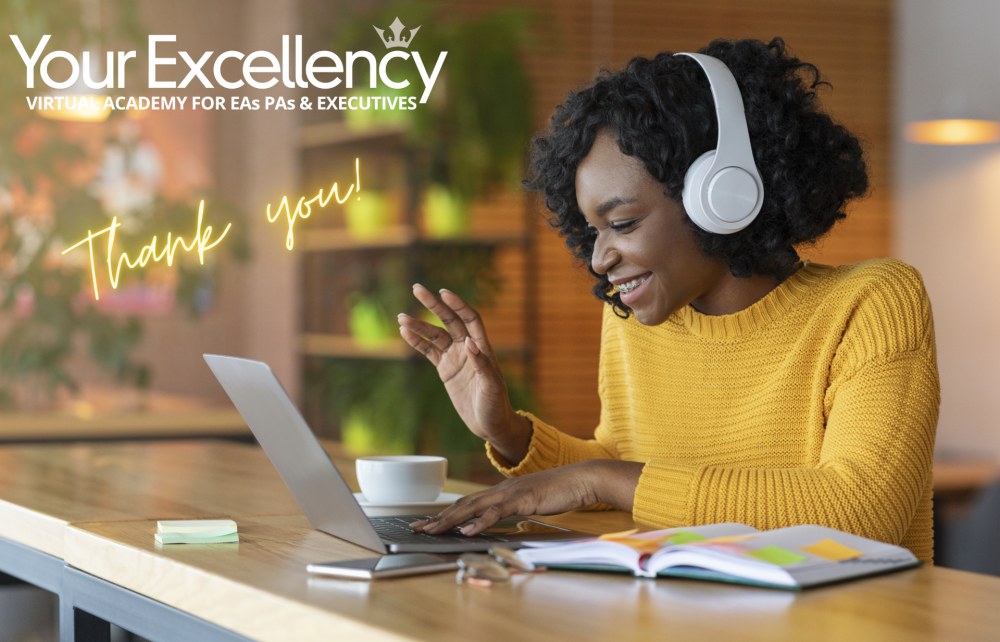 With my regards,
Lindsay