How is your Monday going everyone? I started mine off by collating all the wonderful comments I've received about my EA/PA Chataway with Lindsay podcast that I launched earlier this month. It certainly got me smiling and set the tone for my working week, the final one before I officially finish for the festive season. I am now wondering though whether my podcast Series needs to come with a health warning?!
"Made time for a listen today and now have an aching mouth from smiling so much and sore neck from nodding to everything that was said. Such a great podcast and can't wait for the next!" Natalie Andrews, VA at www.nabusiness.co.uk
"I loved recording this podcast with Lindsay. All sorts of questions that I have never answered before and she made me cry – but in a good way! It's a really nice format" Lucy Brazier, CEO of Marcham Publishing, producers of Executive Secretary Magazine and guest feature for Episode One www.executivesecetary.com

"I've just listened to Episode One of the EA/PA Chataway with Lindsay. Lindsay and Lucy's authenticity and relaxed chat made you feel like you were sitting in the room with them. Hearing from both these amazing ambassadors and trainers for our profession is always so insightful and full of wisdom. There is always something to take away. Go on and have a listen" MandyTinker, C-Suite Executive Assistant
"Huge congratulations on your podcast. It's brilliant – super exciting and I'm so thrilled for you. Loving the "Lindsay" energy throughout, the snazzy intro and your talk of a dancefloor! Great mix of questions too. You are MADE for podcasting – bring on the next one please!" Sarah Howson, BBO PA Network Founder, Former EA, Independent Specialist EA/PA Recruiter www.bbopanetwork.co.uk
This week's special Episode is one I'm really excited about. Featuring our fabulous team of Ambassadors it is packed full of wisdom, insights, and knowledge. It's slightly longer than the first two episodes but I can assure you that your listening time will most definitely be worth it (and you can listen in bite-sized chunks!).
If you're not already signed up to receive notification of when this episode goes live, head over to our website here.
If you've not listened to episode 2 yet, tap the image below to have a listen.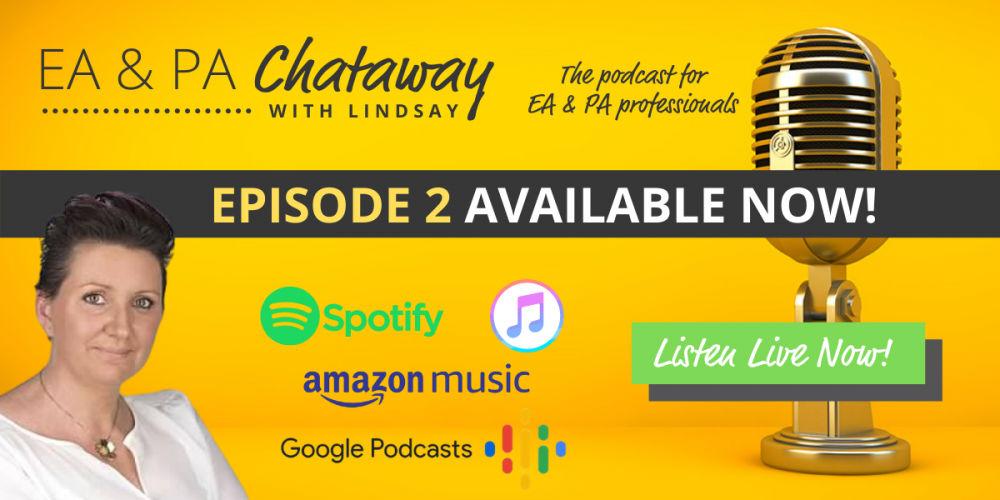 With my regards,
Lindsay