What do you think are the top skills required of an exceptional Personal Assistant?
How do your current skillsets meet the needs of this profession and are there any gaps that need filling?
These are just two of the questions I will pose in the one-to-one training course "The Role of the Personal Assistant" which I am delivering to a new Level 3 learner today.
This is the perfect training course to kick off our accredited Level 3 qualification as it provides an overview of the role with discussion time on the historic, present and future challenges of the profession, a consideration of the responsibilities and an identification of the resulting skills and qualities you need to excel.
During today's training, I will be sharing details of The World Economic Forum's Future of Jobs Report and citing the growing skills for 2022.
The Report identifies a shift in the division of labour between humans, machines and algorithms. "Automation, robotization and digitization" are impacting the way we work. That resulting impact is determining the growing skills required by 2022: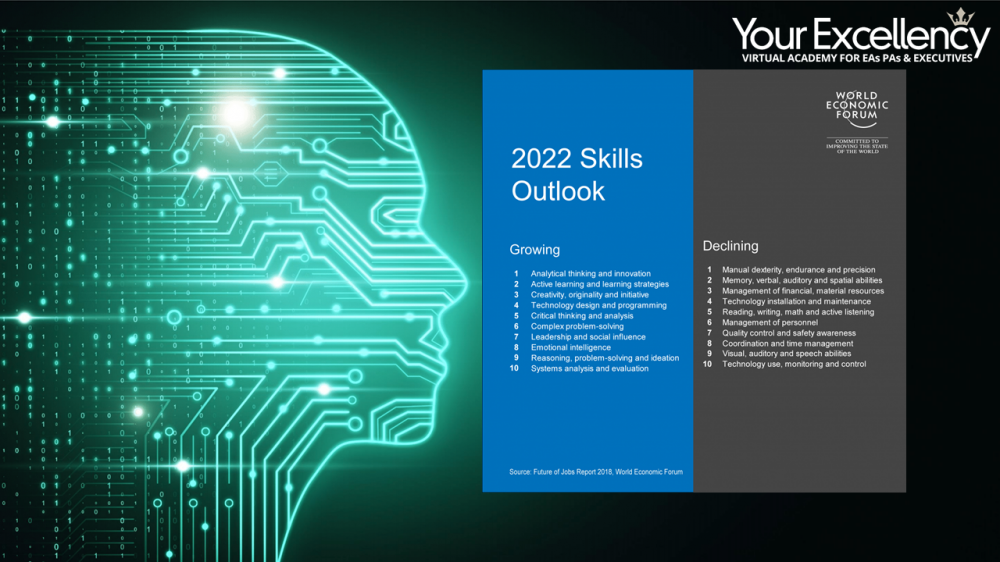 Isn't it fascinating to note that the growing skills make up the "human element" of the role – things like emotional intelligence, creativity and leadership? Are these skills you have and are you implementing them in your role?
For those of you who own a copy of my book "A-Z Pearls of Wisdom", you'll know that I identify the skills of the Personal Assistant in an A-Z collation. The nature of the PA Role ("no two days are the same"!) means this is an impressive list ranging from "Assertiveness" to "Zeal". And mapping across your own skillsets to align with these identfied A-Z skills can be great to determine gaps in your learning and your development needs.
As ever, we'd love to support you on your learning journey. Make sure you download a copy of our new 2021 Spring Virtual Academy Prospectus here and give me a call if you'd like to chat.